Legislative News
The Montana Chiropractic Association
Integrative Health & Wellness Congressional Caucus Co-Chair Introduces Medicare Opt-Out Bill
Your Voice is Needed to Build Caucus & Bill Sponsorship
26 June 2019 (Falls Church, VA): The International Chiropractors Association (ICA) is pleased to see that Representative Jackie Walorski, (R-IN), Co-Chair of the Integrative Health and Wellness Congressional Caucus recently introduced H.R.2883 – Chiropractors Equity Act of 2019 which seeks to eliminate discrimination in the Medicare "Opt-Out" provision by allowing chiropractors to provide items and services through private contracts with Medicare beneficiaries. Eliminating this disparity has long been a goal of the chiropractic profession and is one of the key parameters in ICA's proposed Medicare Legislation which we are diligently working to get introduced. Our objectives are to:
Maintain the current mandate for coverage of the adjustment to correct a subluxation.
Remove the restrictive language used to limit reimbursements to the adjustment "only".
Introduce the concepts of Sec. 2706 of the Public Health Service Act and eliminate discrimination based upon provider license type.
Maintain economic neutrality by removing barriers to reimbursements for existing covered services only.
Establishes equitability in reimbursement rates to other physician level providers.
Eliminate discrimination that denies patients of chiropractic physicians the ability to privately contract.
Representative Walorski joined Representative Judy Chu (D-CA) in March as Co-Chairs of the bi-partisan Integrative Health and Wellness Congressional Caucus in the 116th Congress. The Congressional Caucus is intended to provide legislators a forum to learn about and engage with the integrative and wellness community. Both Representatives Chu and Walorski support expanding access to integrative health professionals and both serve on the powerful House Ways and Means Committee. ICA in collaboration with the Integrative Health Policy Consortium (IHPC) sponsored the March event that announced the Caucus. The ICA has participated in the IHPC for many years. Our President, Dr. Stephen Welsh is on the IHPC Board of Directors and Executive Committee and serves as Co-Chair of the Integrative Approaches to Pain and Addiction Committee. Working with IHPC during the previous administration, we were able to see the Public Health Service Act amended to include Section 2706, a provision endorsed by the ICA to promote non-discrimination for covered services in insurance.
Dr. Stephen Welsh, stated, "It is heartening to see a member of Congress have the courage to introduce legislation that will eliminate the private contracting disparity and give chiropractic patients who are Medicare beneficiaries the same medical freedom to privately contract with their providers as patients of all the other physician level providers have. We need to help Representative Walorski gain support for HR 2883 and help increase the membership of the Caucus."
Call Your Representative: To help, please call your Representative and ask them to do two things:
Co-Sponsor H.R. 2883, the Chiropractors Equity Act of 2019; and
Join the Integrative Health and Wellness Caucus.
To join the caucus, members of Congress should contact Representative Chu's office.
To find your member of Congress and their contact information, click here. Consider reaching out to your Representative on social media to make the request as well.
ICA wants to hear from you about your interactions with your Representative. Please email Beth Clay, Director of Government Relations at [email protected] and share your experience and any feedback. We will provide updates to this and all legislation on the ICA website and through email communications.
Dr. Stephen Welsh, ICA President continued, "The ICA is very active on Capitol Hill. We are continuing to promote our draft Medicare legislation which will fully eliminate discrimination against the patients of chiropractors who are currently being denied reimbursement for covered services such as the exam and x-ray when provided by a Doctor of Chiropractic. We do this while staying true to our values and preserving the existing mandate to cover the adjustment to correct a subluxation in the current definition of chiropractic within the law."
2017 Montana Legislature End-of-Session Report
May 15, 2017
Click here to view a chart of bills being watched by the Montana Chiropractic Association, as of sine die. For all of the bills with a status of "sent to enrolling" or "returned from enrolling," it means that they have to be signed by the Speaker and President and then sent to the Governor. Once in the Governor's possession, he has 10 days to sign or veto the bill. If after 10 days, the Governor does not act, the bill becomes law. Updates will follow
President Trump Signs Tester's Bipartisan Bill to Improve Veterans Choice Program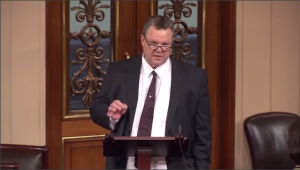 Senator's Bill Among First Legislation Signed into Law This Congress
(Big Sandy, Mont.) – President Donald Trump today signed into law U.S. Senator Jon Tester's bipartisan legislation to begin to improve the Veterans Choice Program in Montana.
Tester's Veterans Choice Program Improvement Act cuts red tape for veterans seeking health care closer to home by making the VA the primary payer under the Choice Program, which will reduce out-of-pocket costs for veterans and align the Choice Program with the VA's other community care programs.  Tester's bill recently passed both the Senate and House of Representatives unanimously, and is now one of the first pieces of legislation signed into law by President Trump.
"Montana veterans have told me time and again that they had to jump over too many hurdles with the Choice Program," said Tester, Ranking Member of the Senate Committee on Veterans' Affairs. "This law will take critical steps to begin to fix the Choice Program so it works for veterans and community providers across Montana.  Republicans, Democrats, and Independents put politics aside and supported this bill because it cuts red tape for our veterans and improves access to health care for the folks who served.  Moving forward, I will continue to work with veterans and my colleagues to reform the Choice Program so it works on the ground in Montana." 
Tester's bill was cosponsored by Senators John McCain (R-Ariz.), Johnny Isakson (R-Ga.) and Jerry Moran (R-Kansas).
Montanans praised Tester's efforts to improve veterans access to health care.
"I thank you for your continuing efforts on behalf of our veterans," Darlene from Missoula wrote to Tester.  "Thank you for getting the U.S. Congress to put politics aside and unanimously pass your bipartisan legislation."
"The Montana Chiropractic Association thanks Senator Tester for his efforts to remedy some of the shortcomings of the Choice Program," said Dr. Marc Nynas, President of the MCA. "Senator Tester has heard our concerns that the shortcomings of the Choice Program have made it hard for veterans to seek and receive appropriate care.  Getting veterans the care they need is really what it's all about and Senator Tester's law and his efforts to put scheduling back in the hands of VA Montana will provide the veterans the care they need and deserve and providers will be paid for their services in a timely manner."
The Veterans Choice Program Improvement Act is a part of Tester's three-pronged approach to improving the Choice Program in Montana.
Tester also successfully pushed VA Montana to schedule appointments for veterans directly, instead of forcing them to go through government contractors like Health Net.  Because of Tester's efforts, veterans enrolled in the Choice Program will soon be able to schedule appointments with their local doctor directly through VA Montana, which will reduce wait times for veterans and local health care providers.
Tester also introduced the PACT Act to make contracts between the VA and private contractors like Health Net publically available.
A summary of Tester's efforts to improve the VA Choice Program in Montana can be found HERE.